Construction-grade Silicones
Sealant refers to a material that maintains watertightness and airtightness by filling joints and seams of various materials to. Sealant is aimed to enhance the durability of buildings by fixing materials with excellent adhesiveness and elasticity. KCC, as the only comprehensive sealant producer in Korea, manufactures and sells a variety of quality sealants such as silicones, polyurethanes, polysulfides, modified silicones and acrylics. KCC offers solutions and its knowhow to its clients from the development stage of high quality, eco-friendly products for extending the lifetime of buildings to installation and supervision.
Construction Sealant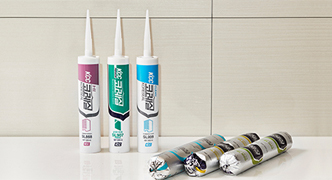 Construction-grade Interior Sealant
As sealing materials are used indoors and require excellent adhesiveness and compatibility with various materials, they need to meet environmental regulations (pollutant emission regulations). In particular, the latest trends in the industry require longer-lasting properties, such as strong mold resistance in bathrooms and kitchens.
Construction-grade Exterior Sealant
Excellent adhesiveness, durability and weatherability are required as buildings are influenced by various surrounding environmental conditions (shrinkage/expansion due to temperature change, sunlight, vibration from earthquake, etc.). Unless the above conditions are satisfied, it can degrade the appearance due to discoloration, cracks and peeling of the coating, and fail to perform airtightness/watertightness.
---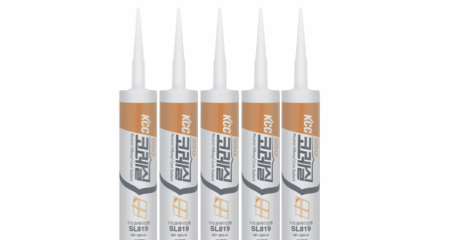 Structural (SSG) Glazing Sealant
With the growing expansion of high-rise and commercialized buildings, installing sophisticated and beautiful curtain wall has become a major trend in the construction industry. The installation of curtain wall has been made possible due to the use of high-strength structural silicone sealants. Structural glazing sealant requires high strength to withstand the external wind pressure used in installation of curtain wall.
---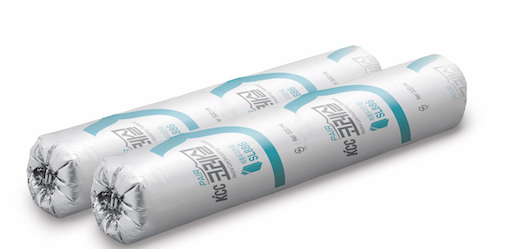 Secondary Seal for Double-glazing Units
Double-glazing units minimize the transmission of sound and heat to achieve thermal insulation and soundproofing performance. Here, because secondary seal maintains glass and glass structure, it requires high durability as well as weatherability, ozone resistance and UV resistance.
---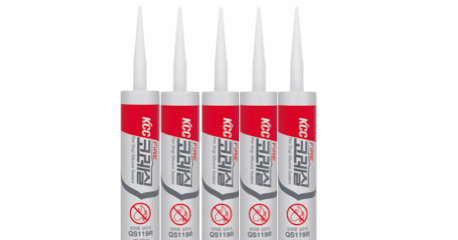 Fireproof Sealant
This sealant fills up cables, pipes, ducts and fireproof zones between floors that are relatively narrow, to stop the rapid spreading of flames and harmful gases in the event of fire. Fireproof sealant has excellent durability, heat resistance and cold resistance as well as waterproofing, moisture-proofing and sound proofing effects.
Applications
Glass-glazing Sealant

This sealant is used to block the inflow of rain and dust from outside and to fix glass with the window frame.

Bio Sealant

This sealant is used as an adhesive on Tiles and floorings, and on joints nearby bathrooms for its excellent antibacterial and mold resistant properties.

Non-pollution Sealant

Non-pollution sealant is applied to joints between panels. This sealant for exterior applications has excellent adhesiveness, powerful elastic film and weatherability. It has a non-pollution property and is applied to seal stone panel joints, and aluminum panel/composite panel joints.
Classification
Product
Applications
Features
Packaging
Composition
Hardening Type
New Permissive Rate
Silicones
SL806
Multipurpose Construction-grade Silicones
Type-1
Oxime Type
± 25%
C
SL807
Multipurpose Construction-grade Silicones(Economic Type)
Type-1
Oxime Type
± 25%
C
SL819
Silicones for Structural Glazing
Type-1
Alcohol Type
± 25%
C
SL820
Silicones for Structural Glazing
Type-2
Alcohol Type
± 25%
D
SL822
Secondary Seal for SSG
TyType-1
Alcohol Type
± 25%
D
SL825
Silicones for Bathrooms & Kitchens
Type-1
Oxime Type
± 20%
C
SL850
Silicones for Civil Engineering and Expansion Joints
Type-1
Oxime Type
± 25%
D
SL866
Silicones for Aluminum Assembly
Type-1
Oxime Type
± 25%
C
SL868
Silicones for Exterior Sealing
Type-1
Oxime Type
± 25%
C, S
SL886
(General) Silicones for Manufacturing Double-glazing Units
Type-1
Oxime Type
± 20%
C
SL907
Silicones for Glass Glazing
Type-1
Oxime Type
± 20%
C
SL921
(General) Silicones for Manufacturing Double-glazing Units
Type-1
Oxime Type
± 25%
D
SL922
(General) Silicones for Manufacturing Double-glazing Units
Type-2
Alcohol Type
± 25%
D
SL999
Silicones for Exterior Panels (Non-pollution)
Type-1
Oxime Type
± 25%
C, S
SL1000
Silicones for Window Areas
Type-1
Oxime Type
± 25%
S
QS119R
Fireproof Sealant
Type-1
Humidity Curing type
± 25%
C, P
QS119F
Interlayer Fireproofing Silicone Foam
Type-2
Reaction Curing Type
P
SL907 Premium
Silicones for Glass Glazing (General)
Type-1
Oxime Type
± 20%
C
SL825 Premium
Silicones for Bathrooms & Kitchens (Acrylic Bathtub)
Type-1
Alcohol Type
± 20%
C
SL2000
Silicones for Exterior Panel (Non-pollution)
Type-1
Oxime Type
± 25%
S
※ PACKING C : Cartridge, P : Pail, D : Drum, S : Sausage