Automotive Parts
Automotive silicone parts are used in many key parts of automobiles due to their excellent heat resistance, oil resistance and UV resistance.
As the engine room becomes smaller and the diesel passenger car increases, the temperature of the automobile engine room rises, and the usage of silicone is expected to increase gradually.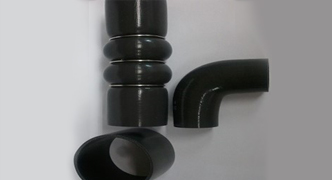 Turbo charger hose
Turbo charger hose applied to the vehicle engine room connects the engine, turbo charger and intercooler. In particular, silicone with high heat resistance is essential in commercial vehicles with diesel engine. Also, the simultaneous application of fluoro rubber and fluoro silicone as the inner lining material is needed in the passage where compressed air containing engine oil passes through.
Here, aramid texTiles which is used as bulletproof material to withstand high pressure and high temperature is used as reinforcement. As for molding technique, co-extrusion for increased productivity in traditional calendaring-wrapping method is available. HTV is the most suitable type of rubber for various molding techniques.
---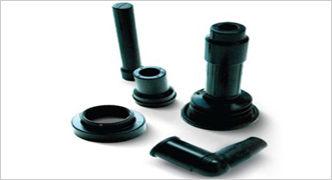 Spark plug boots
As a part applicable in gasoline engine vehicles, it is applied to spark plug ignition vehicles and for assembly of ignition coils and plastic injections. Silicone is directly inserted into the engine due to its superior electric insulation and heat resistance.
Injection molding is mainly applied, whereby the product is designed to secure superior releasing property and mechanical property.
---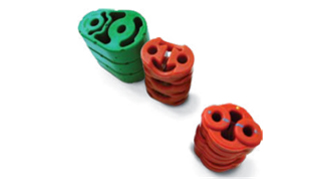 Muffler hanger
Silicone rubber effectively reduces the amount of vibration generated from the car body by connecting the muffler as the passage between the body and exhaust gas. It is installed close to the engine for its excellent heat resistance. EPDM is being applied to areas with relatively low temperatures due to the distance from the engine. Injection molding is the most frequently adopted method and as heat resistance and high tearing strength are needed for the hanger around the engine, it is difficult to replace silicone rubber with other organic rubber.
---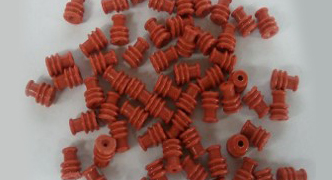 Wire harness connector
In all areas where wires delivering electric signals of vehicles are connected, silicone rubber is inserted at the end of wires or is used as a gasket to increase waterproofness and assembly performance. With consumer demands on waterproof assembly, the product has been designed for oil to ooze out after fabrication of silicone rubber, which is done by silicone phenyl oil. To meet customer demands, the mixture enables adjustment of hardness, oil content and viscosity.