LSR (Liquid Silicone Rubber)
LSR (Liquid Silicone Rubber) is a liquid silicone rubber before curing to become rubber. However, it generally refers to rubber that is heated at high temperatures to cure.
Because it has the basic characteristics of silicone rubber and is in liquid state, unlike HTV, it can be used for automated LIM (Liquid Injection Molding) that automates the process of reforming, mixing and molding.
In addition, various coating methods can be applied to coat industrial materials..
These advantages have made it possible to provide a wide range of products such as baby products such as pacifiers and toys, diving masks, kitchen container covers, automobile accessories such as connector seals and o-rings, electric and electronic parts such as OA rollers, keypads, airbag coatings are used in everyday life and throughout the industries.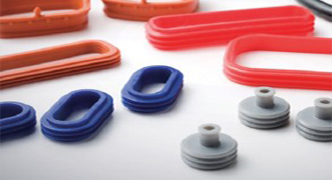 Vehicle parts
Representative vehicle parts using LSR include connector seals, O-rings and gaskets. These components are manufactured using oil bleeding LSR which gradually discharges silicone oil over time after molding to add watertightness and airtightness between the socket and plug of electronic device. Also, when manufacturing module, the friction is decreased to enhance assembly workability. Also, these vehicle parts are getting lighter and downsized and through LIMS using an LSR (Liquid Injection Molding System), more delicate and precise parts can be manufactured.
---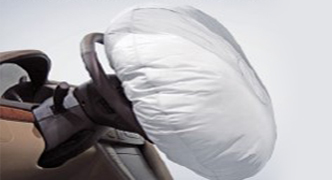 LSR for coating airbag
Automotive airbags are mostly manufactured by coating LSR to fabric such as nylon and polyester.
Airbags coated with LSR improves durability and maintains air pressure for a certain period of time in the event of inflation to protect the human body. To achieve these performances, LSR for coating airbags is designed with superior adhesiveness to fabric, and its additional features include flame retardancy and tear resistance.