Environmental Management
CSR management of KCC
KCC is fulfilling its corporate social responsibilities in a preemptive and consistent manner based on the management concept of value creation for better life and the vision and goal of becoming #1 company with strong competitiveness in eco-friendly technologies. We are committed to becoming an advanced business by leading environmental and quality management and achieving shared growth with autonomous assessment for fair trading.
Environmental Management Goals
KCC puts the environment first across its entire process, from manufacturing activities to application and disposal of products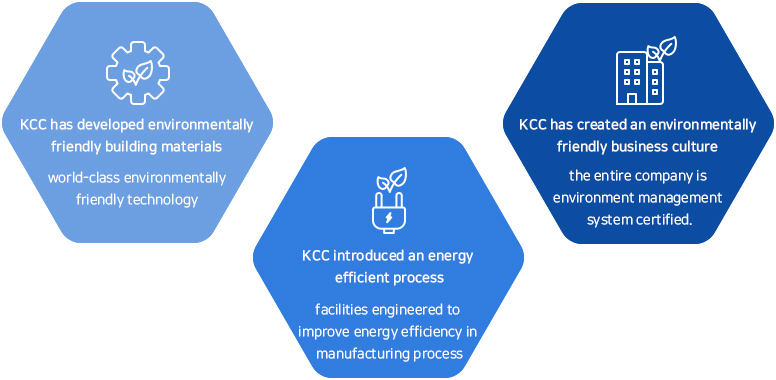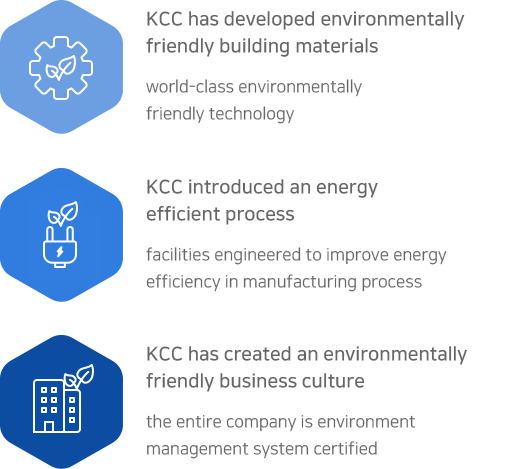 a basic policy
KCC has developed environmentally friendly building materials

world-class environmentallyfriendly technology

KCC has created an environmentally friendly business culture

the entire company is environment management system certified.

KCC introduced an energy efficient process

facilities engineered to improve energy efficiency in manufacturing process
Activities of Environmental Management
Green Home Project
Completed environmental mark certification for glass, heat insulation, PVC windows, gypsum board, etc. with enhanced functionality and marketing to construction companies and consumers
Obtained Environmental Certification on 53 types of Paints, 18 types of insulators & sound absorber, 13 types of foloor materials, 12 types of wall and ceiling material and more.
Launched eco-friendly products such as Glass Nature, which is a thermal insulating material using natural binder derived from corn
2015. 03, Product of Daejuk and Yeocheon factory (general gypsum board 9.5T) obtained low carbon product certification from Korea Environmental Industry & Technology Institute
2011. 12, Jeonju 2nd factory designated as the green company, first in paint industry
Concluded a voluntary agreement with Yeocheon Plant and 5-13 Gwangyang Bay Area (5-13) : Reduce air pollutant emissions by 13% for 5 years (2006 ~ 2010)
Yeoju Plant obtained ISO 14001 certificate from Korea Standards Association (2006. 07))
Signed voluntary agreement to reduce chemical substance emission at factory
Munmal Plant acquired ISO 14001 certificate from Korea Standards Association (2005. 12)
Products of Eonyang Plant (Mi-ton, Mineral Wool) acquired Certification of HB mark (Eco-friendly building material) from Korea Air Cleaning Association (2005. 01)
KCC won Environment Honor from Ministry of Environment : Recognized for contributing to the spread of eco-friendly products through environmental mark certification (2004. 06)
Ulsan Plant acquired ISO 14001 Certification (2003. 12)