LEB(Liquid Epoxy Bond)
LEB (Liquid Epoxy Bond), an epoxy resin-based adhesive for semiconductors, allows semiconductor chips to be attached to substrates for electrical signal transmission. It is applied to D-RAM and NAND which are semiconductor parts in computers and mobile devices. It has high adhesive strength, high heat resistance and high water resistance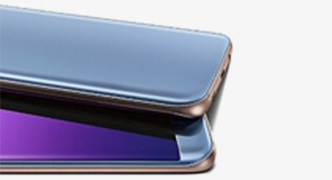 Mobile Display Glass UV patterning
Mobile Display Glass UV patterning and deposition on the front and back sides of the glass to create a decorative effect by applying decoration and subtle color. In the future, we will continue to develop new products tailored to our customers' needs while expanding the domestic mobile market and expanding into overseas mobile markets.
---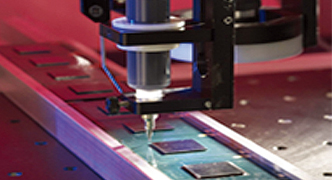 Film (DAF), LEB (Liquid Epoxy Bond)
Materials for semi-conductor applications include a variety of Die Attach Films (DAF) and adhesives (LEB, Underfill) which are optimized for the process of world-class semi-conductor makers using KCC's superior resin synthesis technology. Moreover, display materials include UV molding materials and UV sealing materials. With higher quality and advanced technology, we are marketing and promoting to domestic and international electronics companies.