KCC Gypsum Boards,
which are used as construction and interior decoration materials, consist of gypsum panels made by mixing FGD gypsum (flue gas desulfurized gypsum) plaster, a main raw material and an effective domestic resource, with water and compound materials.
The stabilized crystalline gypsum is then pressed between two thick sheets of paper to be processed into a gypsum panel. KCC's gypsum boards are excellent in fire resistance and thermal and sound insulation, which are key requirements for interior materials.
Moreover, construction costs can be saved and construction period shortened by a number of different drying techniques. KCC's gypsum boards are suitable for the latest trends in assembly and weight reduction on modern buildings using the CD-TECH (Controlled Density Technology)—the only lightweight construction method in Korea—and also guarantee economic feasibility. The most commonly used types include general gypsum boards, waterproof gypsum boards used in high humidity conditions such as bathrooms and kitchens, fire-resistant gypsum boards used for fireproofing, antibacterial gypsum boards used for suppressing proliferation and growth of mold and acoustic gypsum boards used for soundproofing. KCC Gypsum Boards will continue to develop and supply multifunctional gypsum board products such as high-strength gypsum boards applicable to areas requiring high strength, waterproof gypsum boards with excellent water resistance and mold resistance and new products that satisfy a wide range of consumer needs.
KCC's general gypsum boards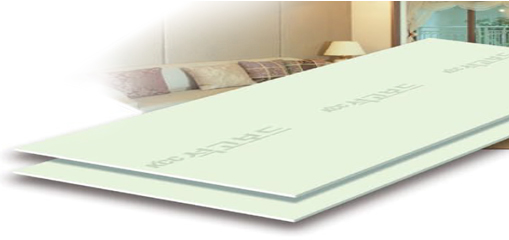 KCC's general gypsum boards are most widely used as general finishing materials on walls, ceilings and drywall of buildings. These can be used in finishing and installation in a variety of fields such as painting and flooring.
Applications

Various types of walls, finishing materials of ceilings, core of metal composite panels, non-bearing dry walls
---
KCC waterproof gypsum boards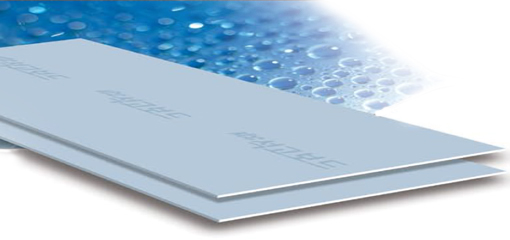 Gypsum plaster used in KCC waterproof gypsum boards is treated with waterproofing materials and can be applied to humid areas such as bathrooms and kitchens.
Applications

Lower adhesion areas of indoor Tiles for finishing interior walls (kitchens and bathrooms, etc.), waterproof