KCC Windows,
with its independent technology and technical partnership with a global manufacturer of plastic windows based in Germany named PLUS-PLAN, resolved all issues and areas that needed improvement on the existing plastic windows and developed window materials that feature a slim structure with superior quality in raw and subsidiary materials. PVC windows boast excellent performance in insulation, soundproofing, durability, watertightness and resistance to wind pressure. In Europe, PVC windows account for 60-70% of the total window market and over 40% of the domestic PVC window market.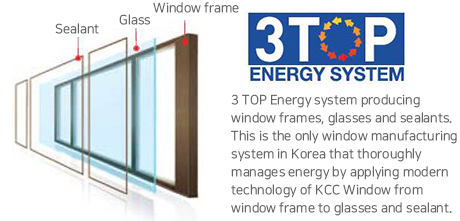 KCC Windows has implemented both beautiful appearance and world-class insulation properties through excellent insulation, convenient installation and strong durability. KCC has recently launched a variety of new products including high insulation sliding windows, safety windows for schools and composite-material windows (Hardwin) in response to the government regulations and increasing consumer demands, such as the implementation of the Window Energy Efficiency Rating System, tightening insulation standards for buildings and demands on strengthening the stability of public buildings. KCC holds a leading position in the market with a high reputation for its 3-TOP System, which constitutes window frames, glass and a sealant manufacturing system.
---
Features of KCC Windows
KCC Windows, consisting various types depending on the applications, is a high-quality window brand that offers excellent appearance and performance, such as heat insulation and soundproofing.
With excellent heat insulation, you can save heating and air conditioning costs.

The use of U-PVC's extremely low thermal conductivity (about 1/1,250 compared to AL), excellent airtight materials and the scientific multi-compartment structural design can effectively reduce energy consumption during cooling and heating.

You can create a stylish interior atmosphere with a beautiful appearance.

The structure of window frame surrounding the glass gives a sense of stability, and colorful wood grain films are applied to the inner layer with reinforced weatherability to create a luxurious and stylish interior atmosphere.

KCC Windows opens and closes smoothly, and is simple and easy to install.

The use of grooved door roller and grooved rail makes it very easy to smoothly open and close the heavy double-layer glass, and the height adjustment lever on large windows allows easy control of vertical and horizontal adjustments of windows.
With excellent soundproofing performance, you can create a quiet and comfortable indoor environment.

KCC Windows manufactured by the welding method has excellent airtightness as the amount of ventilation has been minimized by using excellent airtight materials, and glass of various thicknesses can be applied to effectively block off outside noise.

KCC Windows can withstand the worst weather conditions.

Rainwater is less likely to soak through the window system due to the design of welded construction, increased height of the inner wall and the overlapping structure of the window and rail. In addition, the strength of the wind pressure has been improved by using increased hanging dimension and appropriate steel reinforcement core to prevent deviation caused by slope change during installation. It is resistant to salinity, acid, alkali and harmful gases, thus, relieves concerns about corrosion in any region or condition.
Developed based on its 40-year knowhow in the production of building materials, KCC Windows features PVC windows with superior performance, convenient installation, durability and beautiful appearance. KCC windows are designed to be installed with various building materials manufactured by KCC, which is a major strength of KCC Windows.