KCC's ZERO Technology
Future-oriented housing designed to prevent heat loss by employing high-insulation products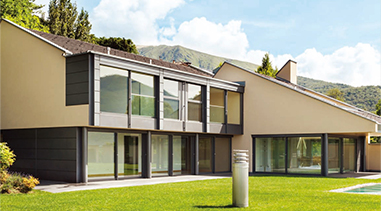 What is an Zero Energy House?
The Zero Energy House is a type of future-oriented housing designed to prevent heat loss by employing high-insulation products. It saves energy without the help of or operation of any additional facilities by utilizing renewable energy and energy-efficient appliances.
The construction of the Zero Energy House involves the use of Passive Technologies that reduce heat loss by 63%, via highly efficient insulating windows and thermal insulation materials, and Active Technologies that replace the remaining 37% of lost energy with clean renewable energy, such as solar and geothermal energy.
KCC has been a most ardent supporter of the Korean government's policy to promote green buildings that significantly reduce fossil fuel consumption, and has grown into a leading player in the creation of Zero Energy Houses with "Zero Technologies," aiming to increase the quality of our lives.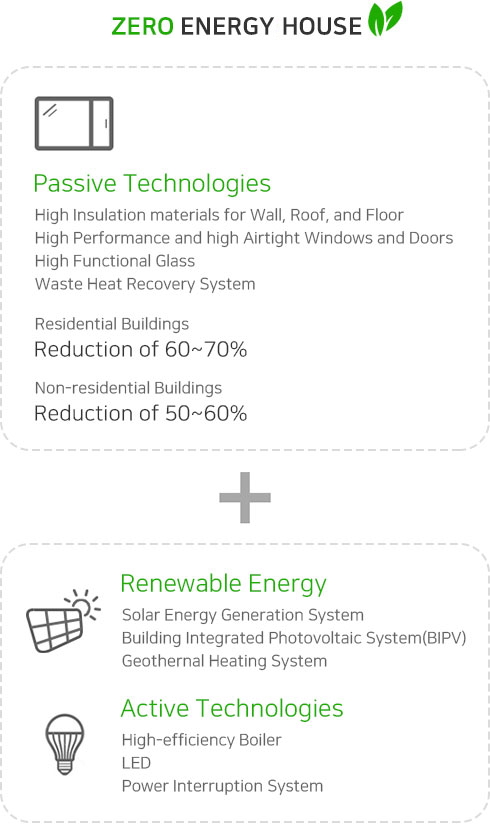 Passive Technologies
High Insulation materials for Wall, Roof, and Floor
High Performance and High Airtight Windows and Doors
High Functional Glass
Waste Heat Recovery System
Residential Buildings : Reduction of 60~70%
Non-residential Buildings : Reduction of 50~60%
Renewable Energy

Solar Energy Generation System
Building Integrated Photovoltaic System(BIPV)
Geothernal Heating System

Active Technologies

High-efficiency Boiler
LED
Power Interruption System
Realizing the Energy Zero concept by adding active technologies to renewable energy
KCC's Zero Technologies
The "Zero Technologies" KCC is committed to refer to "Zero Energy Leakage Technologies "that minimize the loss of heating and cooling energy inside a house by utilizing highly efficient insulation systems for windows and walls. It also includes "Zero HAZMAT Technology," which removes formaldehyde, the main cause of the sick building syndrome (SBS), and controls the generation and propagation of harmful bacteria in home. Thanks to its many years of commitment to various R&D activities, KCC is currently developing and producing a range of safe, high-performance home-building products including the 3TOP SYSTEM, a highly efficient insulation window system consisting of windowsill, glass, and sealants. Plus KCC produces high-performance Thermal Insulation Material such as glass wool and mineral wool and an environment-friendly paint, SUPRO. The KCC's Zero Technology represents the future and value of the company devoted to energy-saving and environmental protection.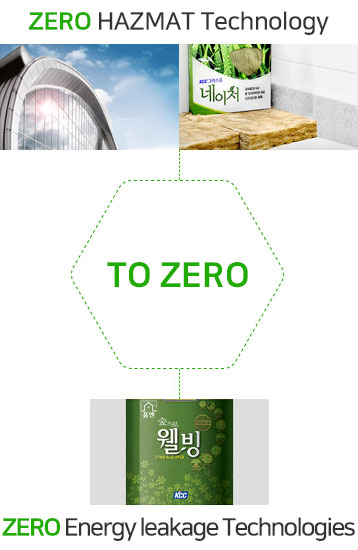 Zero Energy Leakage Technologies
Windows Glass
Themal Insulation
Zero HAZMAT Technology