Central Research Institute
KCC is at the forefront of the development of future technologies
thanks to vigorous investmentin highly-talented people and research facilities.
KCC places the utmost priority on customer value by delivering a quality product at a price that customers want, in a timely manner based on
its 40-years worth of expertise in the field of chemical products for industrial and construction use.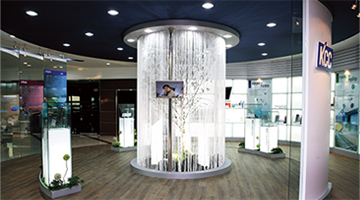 KCC Central Research Institute
As a general chemical research institute conducts research into the fields of precision chemical engineering, ranging from Inorganic and organic materials to composite materials that include Inorganic and organic components. Its Central Research Institute (C.R.I) is strengthening its foundation for next-generation growth through research into developing materials such as new building materials, electric/electronic/semiconductor organic materials, and silicone. KCC is also strengthening its internal knowledge base in order to compete with the world's leading companies by concentrating its utmost efforts on the development of technology for future industries. These include nanomaterials, ceramic composite materials, and alternative energy. The aim is simple: "To become the world's leading precision chemical company".
Research Projects
In the field of inorganic research, KCC has successfully localized grouting materials for geothermal heating and cooling by developing silica, a key ingredient of grouting materials, which are needed to recover thermal energy as this type of energy is becoming very attractive as clean energy. In the silicone sector, we are developing silicones for eco-friendly emulsions and non-solvent silicone products. In the organic research sector, we are leading the reduction of volaTiles organic compounds by replacing harmful materials with eco-friendly resins for coating and construction materials and eco-friendly, high-performance coatings. Moreover, KCC FIREMASK, an eco-friendly coating with excellent fireproof performance, has been certified for its eco-friendliness and effective reduction of harmful gases in the event of a fire, and is patent pending in Korea and overseas.
R&D in Organic Chemistry

Conduct applied research in automotive, decorative, heavy-duty and general industrial coatings
Develop high-performance resins
Conduct research in electronic materials and parts including EMC and organic materials for displays
Conduct research in new business: electronic materials and nano materials

R&D in Inorganic Chemistry

Develop eco-friendly and high functional inorganic products
Develop inorganic materials such as refined mineral and silicone metal
Conduct research in construction material systems
Research for new business: ceramic materials and nano materials for electronics industry

Research in Silicone Production

Develop high-reliability RTV products for electrical and electronic products
Develop silicone rubber of high insulation, high transparency, high strength and high oil-resistance
Develop eco-friendly, non-solvent silicone products
R&D History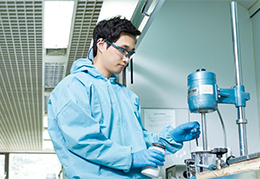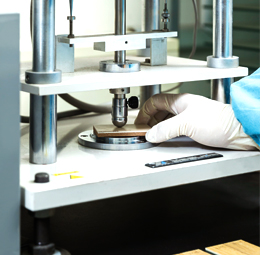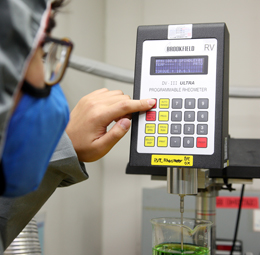 2011 ~ Present
2016.02

IR52 reeived Jang Young-sil Award (High weatherability paint for Headlamp)

2014.

Received the National R&D Excellence Award 2014 (high power/efficiency LED encapsulants and lenses)

2012.03

Central Research Dormitory Open (216 houses)

2011.

Acquired "NEP" certification for new product (Formaldehyde glasswool insulation with water-soluble acrylic resin)

2010.08

Architectural Environment Testing Facility Completed

2010.02

Designated as National Certified Laboratory (KOLAS) for heat and temperature measurement in central research institute
2001 ~ 2010
2010.02

The Construction/Facilities Environment Research Center established Daejuk Technology Research Unit founded

2007.08

Fire & wind resistant test structures built

2006.11

Research laboratory extended and remodeled/General pilot test laboratory built

2005.02

Research team formed focusing on display materials and energy

2004.05

Construction completed for acoustic test laboratory

2004.01

Commercial Production of silicone fluids commenced

2002.12

Developed/supplied water-soluble paint products
1991 ~ 2000
2000.04

Consolidated into Kumgang Korea Chemical Research Center.

1999.05

Achieved internationally recognized KOLAS (Korea Laboratory Accreditation Scheme) in the field of mechanical testing

1999.02

Developed water-based, anti-fouling, fire-resistant paint based on organic/inorganic compounds. Fire-resistance structural testing achieved

1997.06

First national; company to develop a water-soluble paint solution for use in vehicle restoration following (obtained certification for the localization of technology)

1997.04

Completed the construction of the 4th pilot plant (new fabric)

1997.02

Established the Jeonju Technology Research Unit

1996.12

Admitted into the internationally recognized KOLAS (Korea Laboratory Accreditation Scheme) for chemical testing

1996.11

Completed the construction of the 3rd pilot (new materials)

1995.11

Developed VCB (vacuum circuit breakers) aluminum ceramic.

1994.11

metallization (certification for the localization of new technology)

1993.12

Completed the construction of the 2nd pilot plant(waterborne paint)

1993.05

Developed semiconductor sealing materials for 4M/16M DRAM (it won the Industrial Technology Innovation Award)

1991.12

First in the nation to develop eco-friendly TIN-free, self-polishing, anti-fouling paint (obtained certification for the localization of new technology)

1991.11

Founded glass production technology research unit (Yeoju)

1991.08

Founded paint production technology research unit
1981 ~ 1990
1989.02

Completed the construction of the 1st pilot plant (inorganic products & functional paints)

1988.02

Relocated the Central Research Institute (Yongin)

1987.08

First in Korea to develop non-slip binders

1987.10

Designated as a research institute of military service exemption

1986.12

Developed gypsum board for construction in-fill

1986.12

Developed quartzite (ingredient for glass) refining technology

1985.12

Became the world's 2nd manufacturer of plastic pigment, an alternative white pigment to TiO2

1984.12

Became the 1st company in Korea to develop ceramic fiber, a super-high temperature insulating materia